What Hurts the Most Is Left for Last​
​The drawings and the animation are tied together in an experimental technical relation. Being based on video footage and not photographs, when viewed continuously, the drawings render a type of movement visible between them. The animation is not created with the traditional technique but is largely based on photographs of working stages of the drawings, thus being more about the process that was followed, as about depicting an action. The subject matter is the artist, captured while painting, turning her head as she looks back and forth between the photograph she uses as a reference and the work itself. Going through several imaginary characters until completion, by building on certain mistakes that are temporarily favored and individualized, this body of work concludes with the finding of an image that could be declared a satisfactory likeness and a proportional representation.

Powered by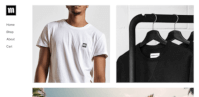 Create your own unique website with customizable templates.